The Association of Equipment Manufacturers held a celebration of modern agriculture on March 21-22
By Diego Flammini
Personal editor
Farms.com
Visitors to the National Mall in Washington DC on March 21-22 were greeted by some of today's modern agricultural equipment.
After several attempts, the Association of Equipment Manufacturers (AEM) held its first celebration of modern agriculture outside USDA headquarters between the Smithsonian Museums.
"We originally planned to do this in March 2020," Curt Blades, senior vice president of AEM, told Farms.com. "The pandemic made us delay everything."
During the two-day event, more than 16,000 members of the public, Congress and staff stopped by equipment exhibits to discuss agriculture.
Members of Congress engaged in policy discussions while WEA representatives used the event to educate members of the public who may not be as familiar with agriculture.
"We knew going in that we were going to meet people who had never seen a modern tractor before," Blades said. "We wanted to have a positive experience and took the time to answer any questions we could."
Several equipment manufacturers were on hand with pieces of equipment and representatives to engage with the public.
Case IH representatives, for example, attended the celebration.
The agricultural equipment visual lining the National Mall is one that those involved won't soon forget, said Matt Booms, Case IH product specialist.
"It was awesome," he told Farms.com. "Our tractor was parked next to the Smithsonian Institute."
The event also acted as a collaborative effort between manufacturers.
Usually, at trade shows, equipment manufacturers compete with each other.
But during those two days at the National Mall, everyone worked together, Booms said.
"A lot of times with the different paint colors, we try to outdo each other," he said. "That was not the case here. I was able to talk (to people) about what our tractors do and then point to our friends who make different pieces of equipment and not only discuss how they work together but also provide an introductory point s they wish to continue the discussions. .
And some of those discussions included highlighting how technology and agriculture intersect.
Some visitors saw sprayers and automatically had a negative opinion about these machines.
Taking the time to properly explain what the equipment does will help people better understand how farmers produce food, Booms said.
"We engaged them and discussed how we are doing the right thing for the plant, for the seed and in no way are we overdoing it," he said. "We have to respect the environment because ultimately it is the environment that gives us our crops."
AGCO representatives also attended the two-day event.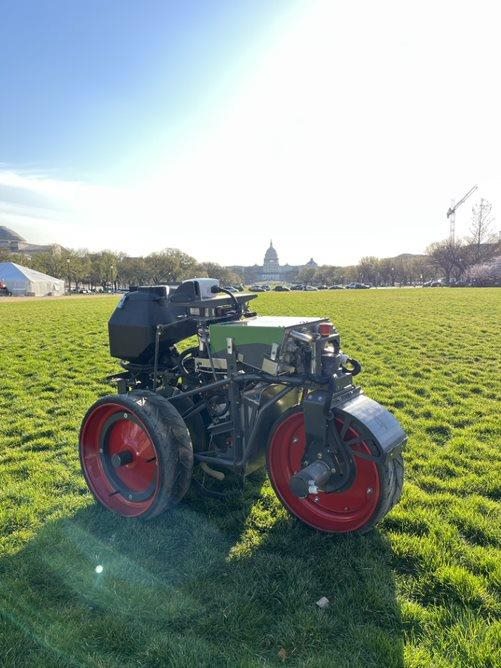 "This is the most fun thing I've had at an event in years," said Bob Blakely, AGCO public relations and communications channel manager. "A lot of people didn't realize how sophisticated modern farming equipment is, so giving them a little insight into that and showing them how all that equipment produces their food, fuel and fiber was really a great experience. ."