Wondering how to design a sensory garden? Creating a yard that stimulates the five senses of sight, smell, hearing, touch and taste is a fulfilling project. You will become more aware of your surroundings and your responses to them, allowing you to connect with nature. It can improve your sense of well-being and promote feelings of calm and tranquility.
When designing a sensory garden, there are two possibilities in terms of layout. Or opt for a series of interactions with separate areas that stimulate each of the senses, like sitting next to a pond or enjoying the sound of the wind blowing through the leaves. You can also choose a multi-sensory experience where you engage in everything simultaneously, like walking along a gravel path lined with colorful scented plants and rubbing your fingertips through the foliage.
And whatever sensory garden ideas you choose, it's important to include rest areas with seating so you can pause and enjoy those experiences up close.
How to design a sensory garden
Whether you have a large backyard or a small balcony, there are many ways to plan a garden that provides an enriching sensory experience. Learn how to design a sensory garden with these expert tips.
Fill a yard with perfume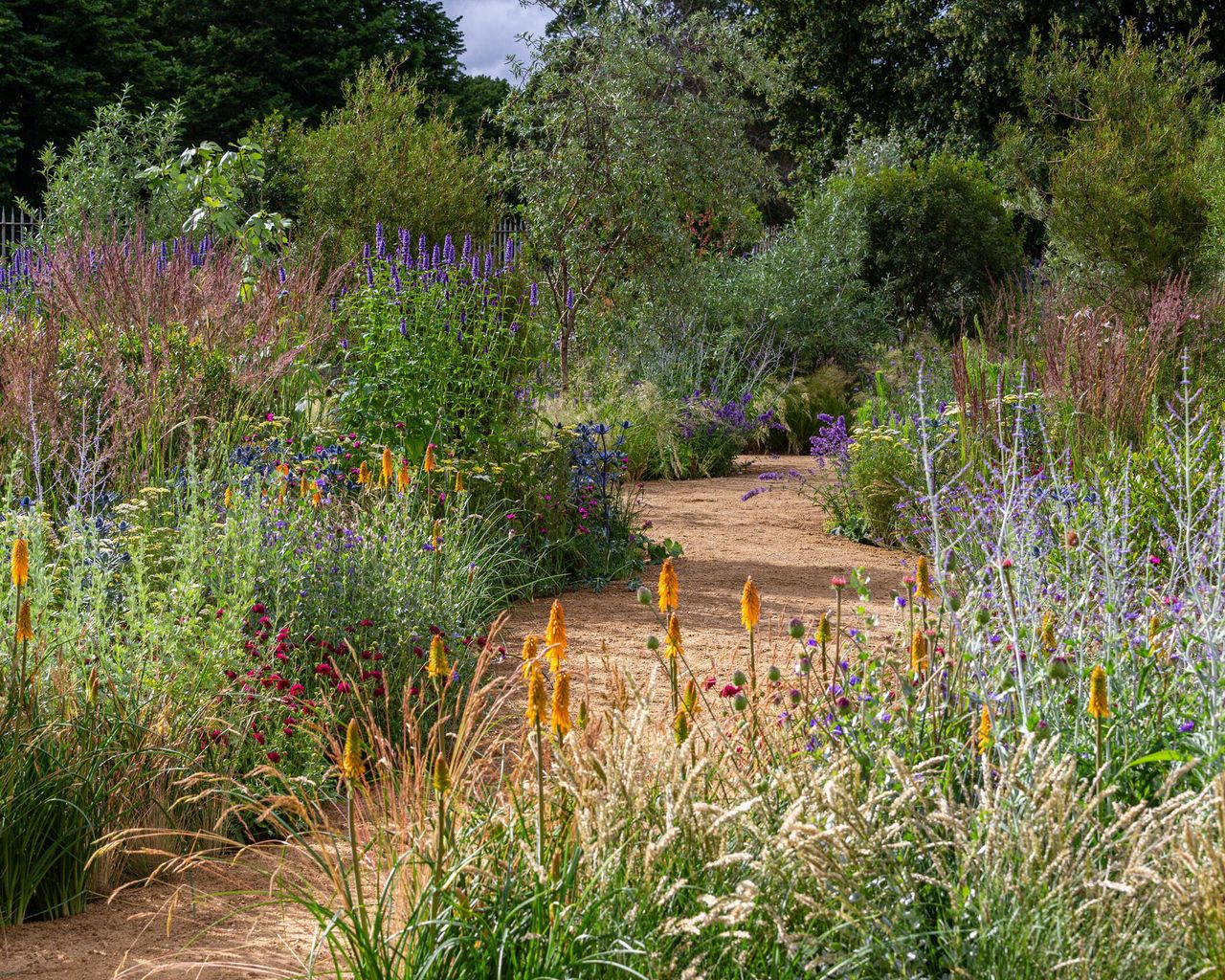 Catching a whiff of the scent of freshly mown grass on a summer breeze or the floral notes of a bouquet of freshly picked sweet peas is so therapeutic, evoking a nostalgic mood that is a key part of any sensory garden. .
It's easy to increase the pleasure with a range of aromatic plants offering different types of olfactory experiences. Choose plants whose fragrance pervades the air such as mock orange (Philadelphus), roses, jasmine and honeysuckle, as well as the curry plant (Helichrysum italicum), which is beautifully fragrant on hot days.
As an extra sensory layer, include plants with scents that need to be experienced up close by touching them with your fingers like lavender and fragrant geraniums, as well as herbs like rosemary, mint, sage and thyme that need to be touched. be picked or crushed to release their aroma.
Some plants also have fragrant foliage, such as Salvia 'Dear Anja' and Salvia 'Amethyst', as well as Monarda bradburiana and Monarda fistulosa, used here in this garden designed by Tom Stuart-Smith. Plant on either side of a winding gravel path to get the most out of the experience.
Introduce interesting textures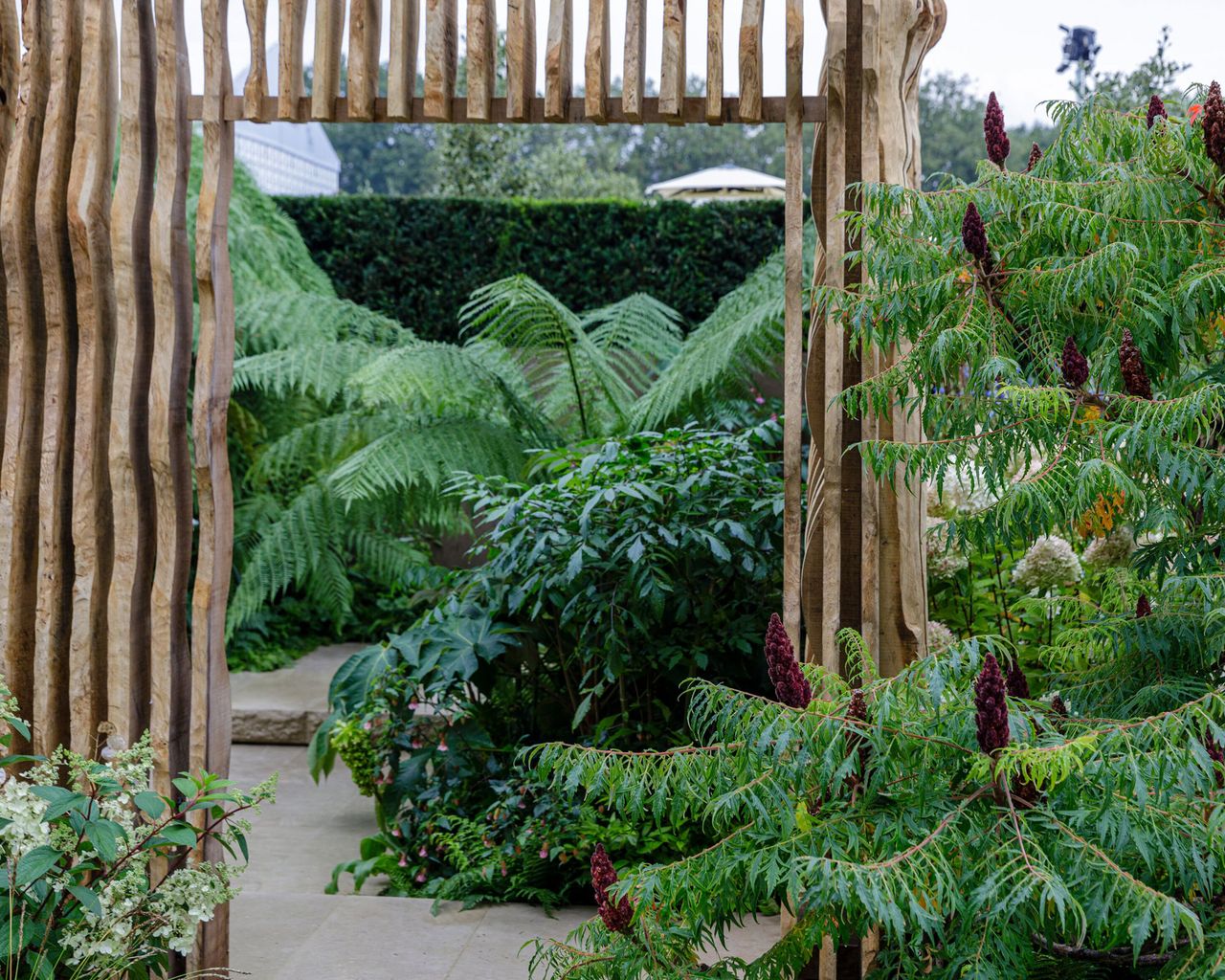 From feathery plantings and silky petals to smooth pebbles and polished stepping stones, to flaking bark and spongy moss, there's no better place than the sensory garden to explore the sense of touch. Choose plants with textured flowers, foliage, berries, seeds, bark and twigs to create interesting surfaces.
Walking barefoot on the lawn is a tactile experience that allows you to reconnect with nature, while nothing is more soothing than dipping your fingers in the water flowing from a fountain.
Walls, sculptures and other structures can also add a stimulating textural element to your garden, especially if they are made of wood. 'From naturalistic planting in the outer beds of Hydrangea paniculata and Rhus typhina, you are drawn from a palette of muted greens and creams through a high, intricately carved louvered oak wall into an enchanted, secret garden teeming with of jewel-like plants,' explains Thomas Hoblyn, the designer of the garden above.
The hand carved oak louvered wall was created by contemporary furniture maker Jan Hendzel Studio from locally sourced sustainable oak. Its wavy design adds a sense of movement.
Stimulate the sense of sight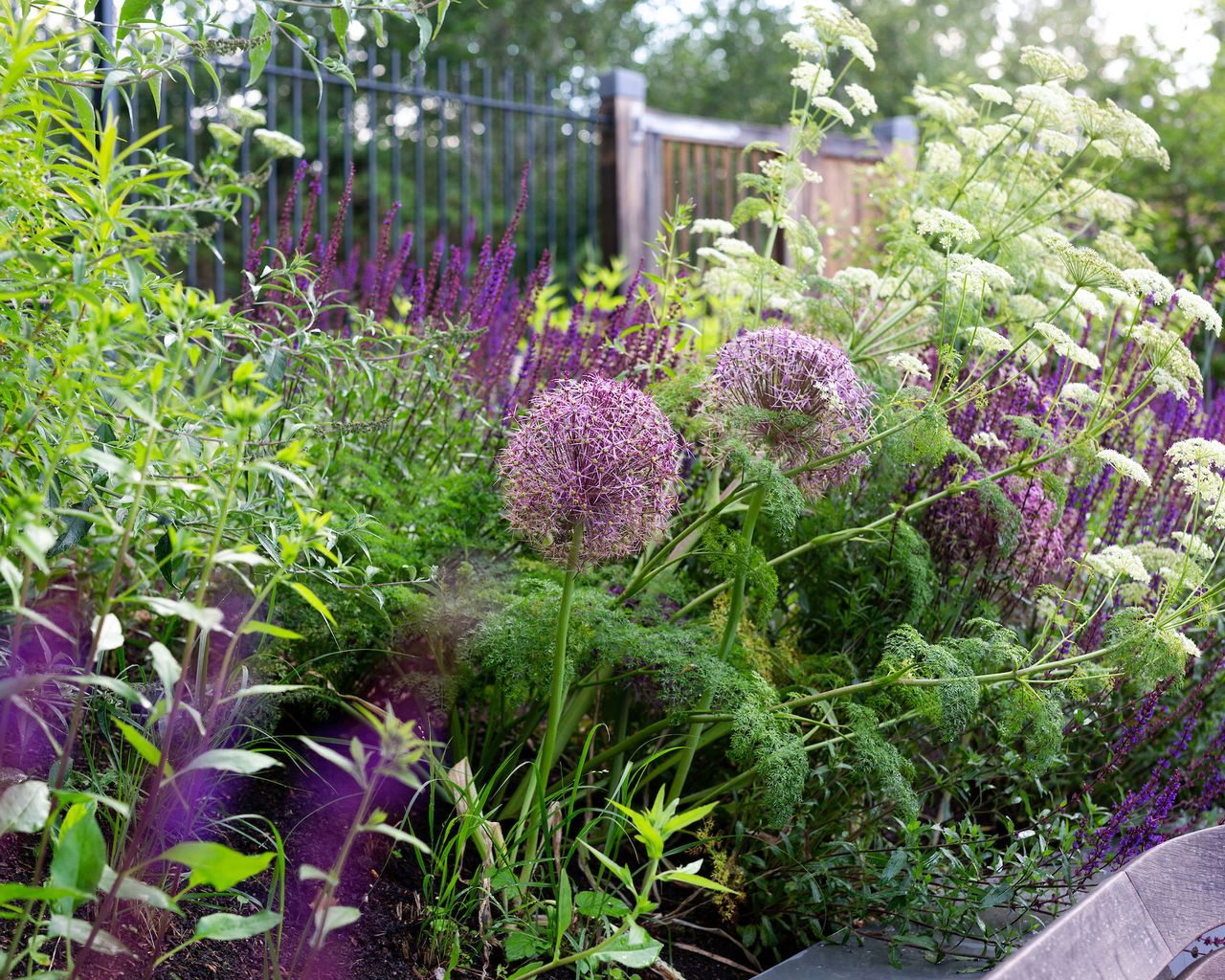 Using color is one of the easiest ways to create a visual story in your garden. Choose different flower and foliage shapes, as well as attractive barks and stems, to create an eye-catching tapestry of different colors, shapes, textures and patterns.
Create a splash of color for dramatic effect. Purple flowers add richness and depth, helping to weave in other colors and from a distance, they blend into a soft haze. Purple is also known for its calming aura. Ornamental grasses that wave in the breeze and sculptural seed heads add interesting structure and movement.
Other eye-catching effects include dappled light reflections, trickling water, waving Japanese cloud pruning, and landscaping tricks like curved pathways leading to a slow reveal destination.
Engage the taste sensations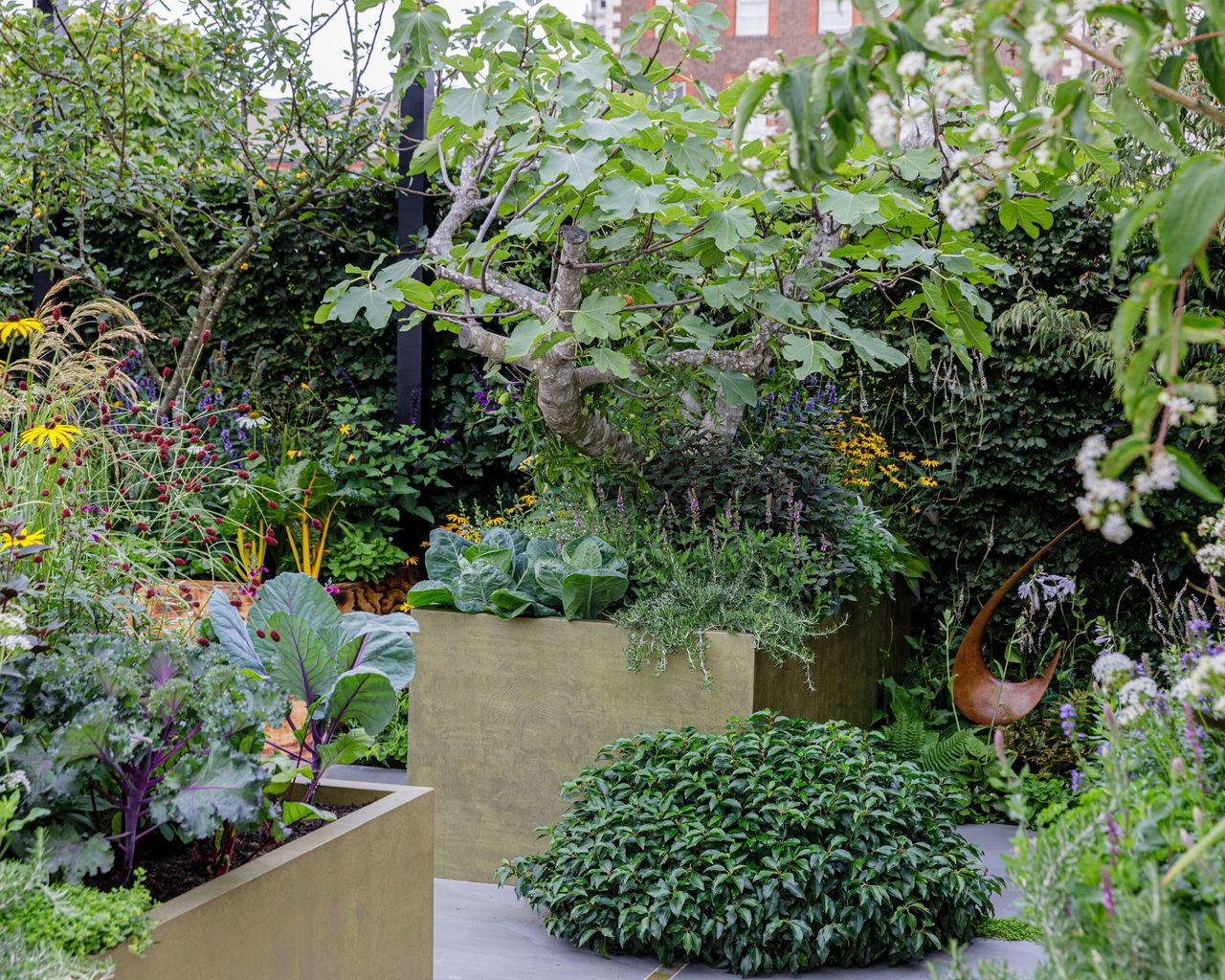 Edible flowers, herbs and home garden ideas combine to create a tasteful garden that celebrates nature's bounty and appeals to the senses. Many of the best-known edible flowers come from herbs, such as lavender, sage, and chamomile, and offer a sensory blend of taste and smell.
Some of the more common edible flowers include rose petals, nasturtiums and scented geraniums, with peony and camellia offering a slightly more unusual alternative.
In this wellness garden, designer Alan Williams focuses on garden borders and borders overflowing with fragrant herbs and edible flowers to forage and ferment as well as garden vegetables to bring flavor to dishes while minimizing food waste. "This garden is more than just a garden," says Alan. "It's a statement about the freshness and vitality we all carry within us and although our bodies may age, the essence of who we are remains as constant as the seasons."
Combine a mix of sounds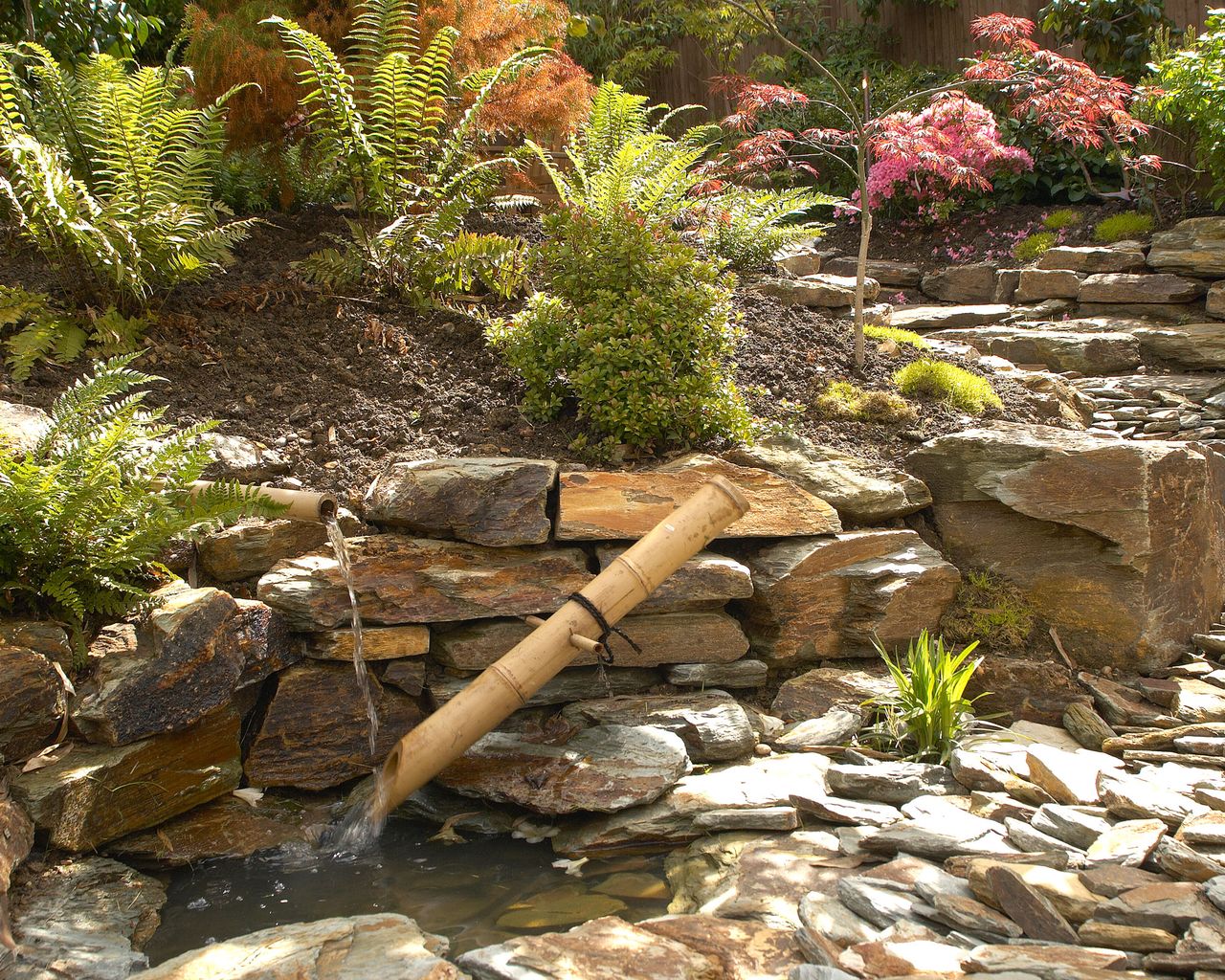 Ideas for trickling water features, grasses rustling softly against each other in the breeze, sculptures of chiming wind and the creak of a gravel path show how a range of diverse sounds can be included in the courtyard to intensify the sensory experience. Wind rustling through tree leaves, bamboo stalks, grasses and plant foliage will all make different sounds as they sway in the breeze.
Plant flowers in your wildlife garden ideas, such as native wildflowers, to introduce the sound of buzzing bees and other pollinating insects. "The greater the variety of plants in a garden, the more wildlife it will attract," say garden designers Charlotte Harris and Hugo Bugg of Harris Bugg Studio. 'Choosing a variety of heights, colors and bloom times will quickly turn your garden into a butterfly's delight. Really consider offering a pollinator buffet.
Introducing water – even if it's just a small container like a birdbath – will make a huge difference and help your backyard come alive with wildlife. Birdsong is, of course, one of the most beautiful sounds you can add to your garden.
What to put in a sensory garden?
Combine a mix of sensory experiences that stimulate sight, touch, hearing, taste and smell.
Stimulate view including a diverse mix of plants in different colors, shapes, sizes, textures and patterns to create a visual assortment of delights.
Add a range of beautiful scents by introducing aromatic plants such as rose, honeysuckle, jasmine and lavender, as well as fragrant herbs such as rosemary, mint, lemon balm and sage.
Include elements that create contrast sounds like trickling water and plants whose leaves rustle in the breeze like ornamental grasses and bamboo. Attract buzzing pollinators like bees and welcome birds with feeders to enjoy birdsong.
Contrasting textures enhance the experience of to touch so include a mix of different surfaces such as water-worn smooth pebbles and textured bark.
Grow your own edible flowers, fruits, vegetables and herbs to boost your taste buds with some of the freshest flavors around.
Once you include all of these sensory elements in your garden, it will become a place that calms and focuses your mind.