The Architecture Program, Universiti Teknologi Malaysia (UTM) held an International Design Colloquium 2022 on 9and March 2022.
It is a joint international event with the School of Architecture of Brno University of Technology (BUT), Czech Republic.
The purpose of the event is to engage faculty members and disseminate architectural ideas and designs from students at UTM and the School of Architecture, BUT.
The 3-hour session was moderated by Dr. Nor Izura Tukiman via Webex.
It began with a keynote address from the Architecture Program Director, UTM, Assoc. Teacher. Dr. Alice Sabrina Ismail.
The event was held to review the work of selected students and received constructive feedback and feedback from the expert panels.
The expert panels from UTM were Dr. Tengku Intan Suraya Tengku Aziz, Mr. Azari Mat Yasir and Ar. Shahida Azili, while the participating expert panels from BUT: Ing. Camber. Dr. Radek Toman and Eng. Camber. Dr Jan Kristek.
There were six students involved, three from each university.
A 3rd UTM student, Lee Zhi Khang presented his work entitled 'Indigenous Language Resource Centre', while a 2n/a first-year student, Saik Wen Xuan presented her project 'Re-imagined: Loop of Hope | Revitalize Food Park', which aims to celebrate the essence of local cultural diversity while thinking about future sustainability.
Master of Architecture (MArch) student Ahnaf Samsury presented his project titled "Nasi Lemak House of Kampung Bharu", which explores ways to improve the dining and learning experience for locals and tourists in Kampung Bahru , Kuala Lumpur.
From BUT, Ondej Valek presented his study on 8-minute breaks in the workplace through architecture titled "Enterprise for Health".
Klarisa Ach-Hubner presented 'Policka – Housing on the outskirts of the city and landscape', which deals with the role of architects in exploring opportunities and solutions for new developments on the outskirts of the city.
Tatiana Uhrikova presented 'Reconversion des refusés', which deals with the reconstruction of the abandoned building of the unfinished Olomouc campus, Hejcin.
The session was fruitful as it stimulated critical ideas and discussions between students and experts.
The students benefited from the session and gained alternative ideas through the panels with different perspectives from different continents.
As the Covid-19 pandemic restricted the movement of people around the world, this joint event paved the way for a productive academic environment between scholars and students from both institutions.
At least 101 online viewers participated in this 3 hour session.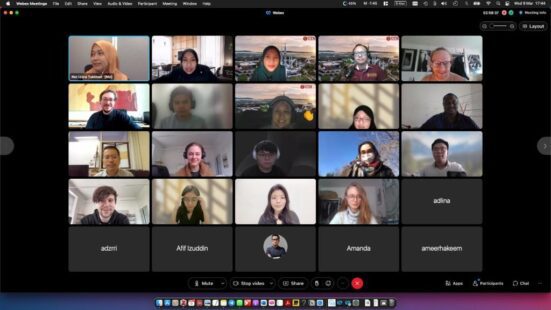 The UTM Architecture program has planned other international joint events in the coming months to strengthen the bilateral relations between the different universities and faculties.
Also, to further promote collaboration in research, teaching and learning of architecture and design beyond Malaysia's borders.
For more information on upcoming UTM Architecture Program events, please visit Sekolah Senibina Skudai's Facebook page.