MILAN DESIGN WEEK 2022 IS BACK
Following the cancellation of the 2020 edition, and a lighter version in 2021, Milan Design Week came back strong in 2022 to delight visitors with new products and artistic interventions. Undoubtedly one of the busiest times of the year for the creative world, hundreds of people from all over the world flocked to the Italian city to see not only the latest product releases at the fair, but also to take advantage of the ever-increasing immersive installations and social events that have taken over courtyards and historic buildings.
Milan Design Week 2022 also marked the entry of DAAily platforms. Our group – design boom, Architonic & ArchDaily – organized the space inside the Centro Svizzero building at the east end of the Brera Design District with installations, hourly interviews with personalities from the fields of art, architecture and design, and a bar that has created a common ground for culture vultures.
Scroll down to find out what happened during the week, as we reveal the TOP BEST shows from Milan Design Week 2022.
DAILY BAR
Located at the eastern end of the Brera Design District, in the Centro Svizzero building, the DAAily Bar has hosted renowned personalities and design enthusiasts. Not only was the Live Talks program impressive, but also the bar itself with a stunning floral installation of Anne Vitchen — floral designer at the Ritz Paris — joined by a Swiss artist by Douglas Mandry artistic curtains in collaboration with bally and Christian Fischbacher.
Giving insight into their current work and developments, the Live Talks welcomed international guests from the worlds of design, art and architecture, including Paola Antonelli, Alice Rawsthorn, Boonserm PrendaAnne Vitchen, Douglas Mandry, Julien BedelLaura Casalis and John Moro among others.
And we also threw a party! Watch the video above for an overview of the DAAily Bar.
IN SEARCH OF LIGHTNESS BY HERMES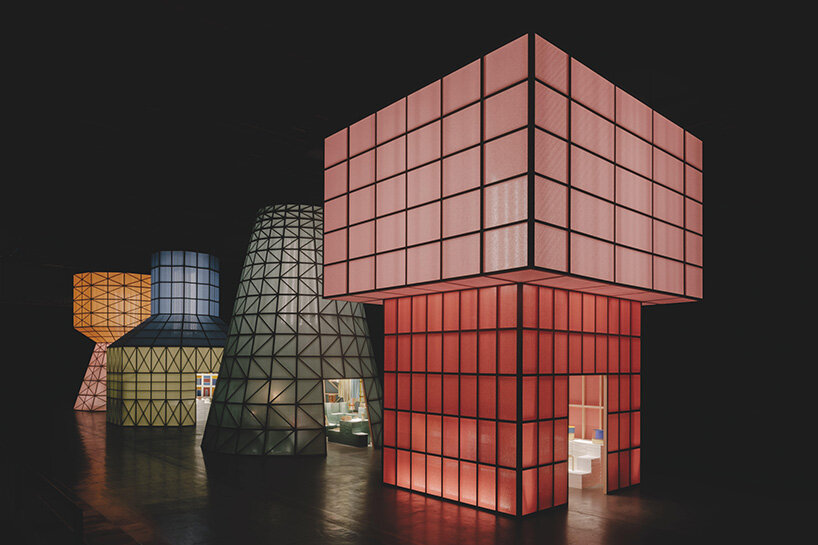 Hermes understood the possibilities of creating space within space and this year continued to wow viewers with an installation that highlighted a quest for lightness. Installed within La Pelote, the installation was composed of four massive translucent structures that played with light and gravity, while seeking a balance between color and light. Despite the immense size of their wooden skeletons, the structures seemed soft and delicate.
Upon entering the small openings, visitors encountered different household items, from decorative pieces to chairs and crockery, all precisely positioned to seek "lightness in the design of the object".
Learn more about designboom here.
DIVIDED LAYERS BY DANIEL ARSHAM FOR KOHLER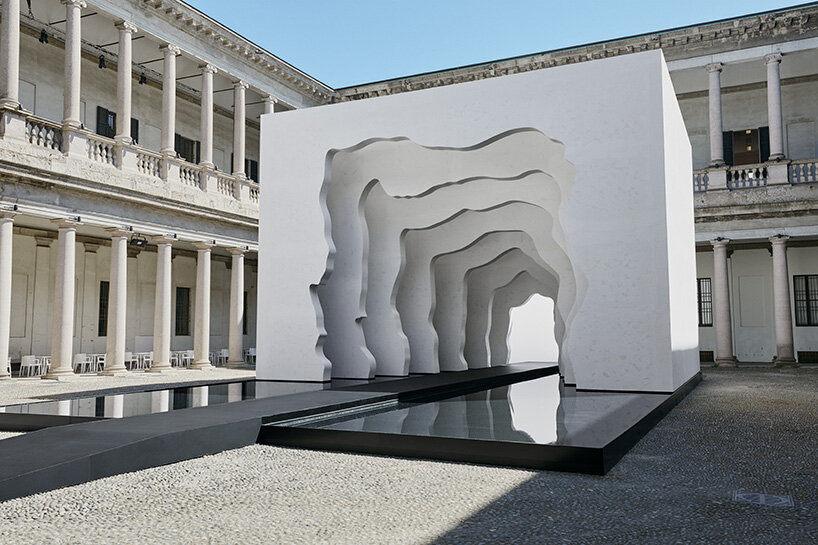 Probably the most Instagrammed installation of Design Week, by Daniel Arsham Divided layers for Kohler has taken over the court of the Palazzo del Senato. Described as a large-scale, immersive art experience, the site-specific installation builds on the duo output of Rock.01 – a 3D-printed sink. Visitors paraded along the walkable tunnel created by a series of stackable panels, where a pond acted as a mirror surface, doubling and reflecting the opening of the cavernous volume.
MONUMENTAL WONDERS BY SABINE MARCELIS & OMA IN ALCOVA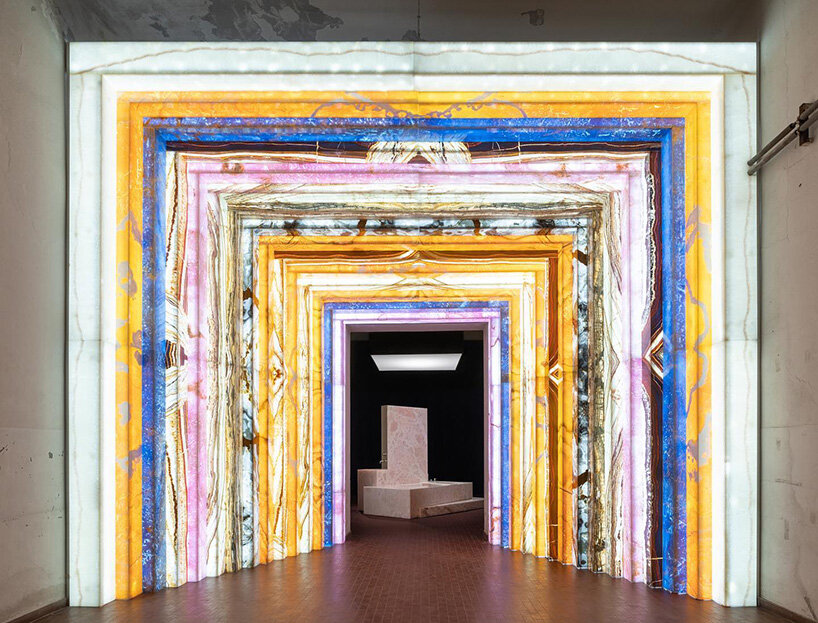 Natural stone brand SolidNature debuted at Milan Design Week with an impressive installation in Alcova, which welcomed visitors through a bright, Designed by OMA portal composed of nine different types of onyx assembled in sequence. On the other side of this entrance, people then encountered a monolithic Pink Pale Hue Onyx bathroom sculpture by Dutch designer Sabine Marcelis; and a multifunctional wardrobe and bed by OMA.
Learn more about designboom here.
WEAVING, RESTORING, RENEWING BY LOEWE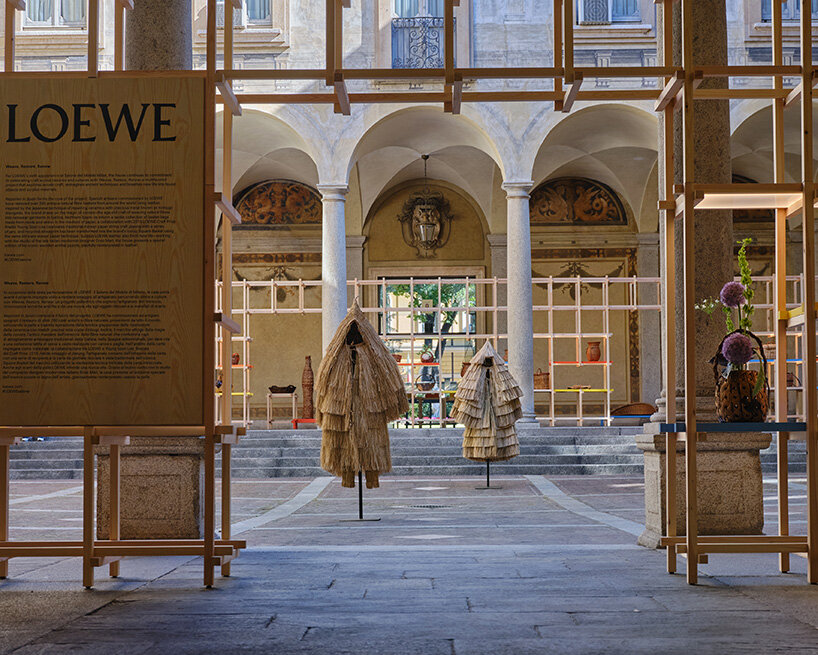 The art of weaving marked the return to LOEWE at Milan Design Week, two years after its last exhibition at the annual design event. For its sixth installment, Anderson and the House explored leather weaving, the Galician tradition of straw weaving known as Coroza, and the Korean technique of paper weaving known as Jiseung. The poliform project revolved around the concept of resurrecting objects and materials that may be forgotten or discarded and transformed them into baskets, handbags, canisters, cradles, vases and storage, all sold at the event.
Learn more about the project here.
This is not a wall BY KONSTANTIN GRCIC AT NFQ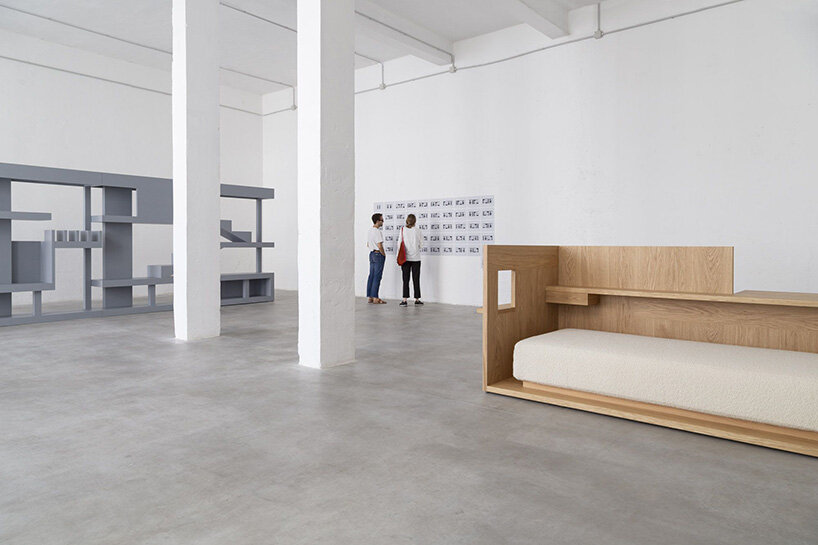 Constantin Grcic put two towering limited edition pieces inside NFQ. Created for Giustini/Stagetti and titled DAYBED and WALL, the pieces were presented as part of an exhibition entitled "Ceci n'est pas un mur", which "ironically refers to Magritte's famous painting of a pipe, known to be the image of a pipe and not the object itself.'
Both pieces recall the formalism of the German designer and have been designed to reinterpret the classic furniture format on the scale of a "micro-architecture". In doing so, they not only furnish a space, but create one in turn.
Learn more about this project on designboom here.
NOMADIC OBJECTS BY LOUIS VUITTON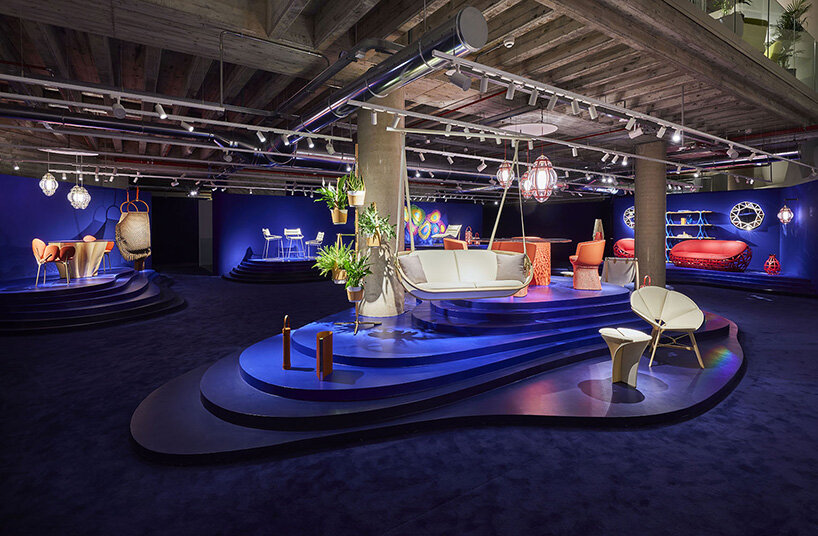 Louis Vuitton celebrated ten years of Nomadic Objects collection of designer furniture and objects during Milan Design Week 2022. Housed in the iconic Garage Traversi, the French Maison unveiled two new additions as well as recent and classic pieces from Atelier Oï, Campana Brothers, Maarcel Wanders, Frank Chou and Raw Edges, among others.
INNESTO (RUBBINGUPTHEWRONGTREE) BY MARTINO GAMPER AT NILUFAR DEPOT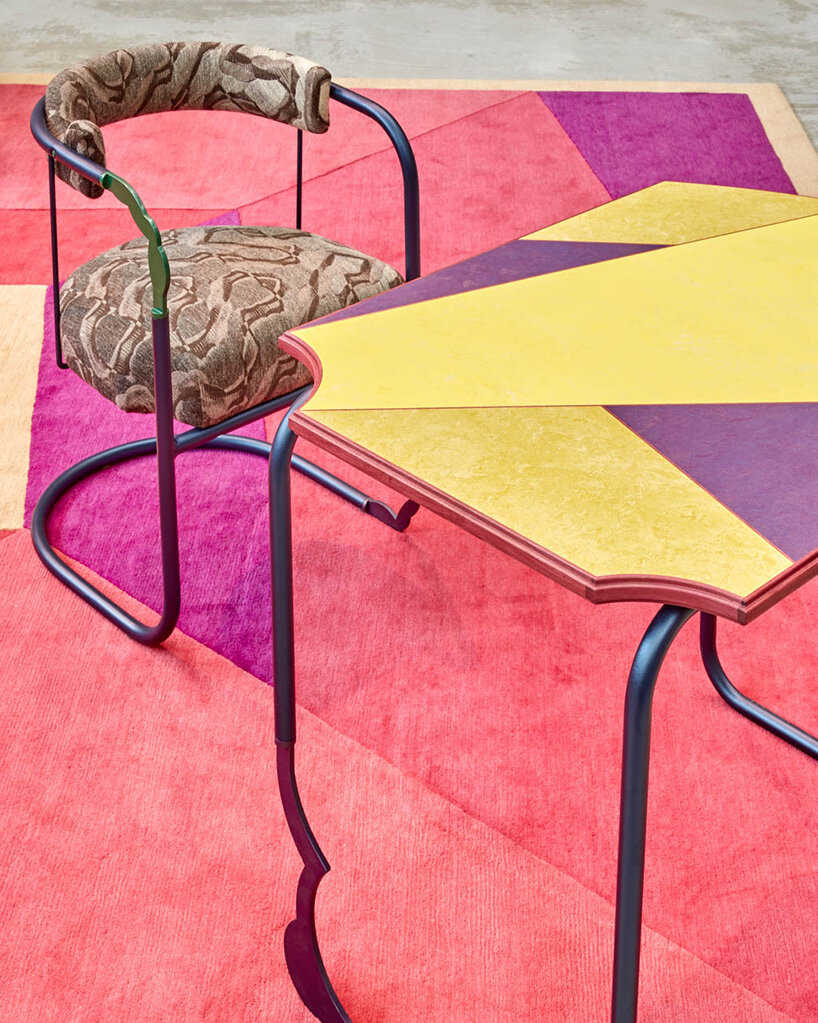 At the Nilufar depot, Martino Gamper brought out the botanical art of grafting – innesto in Italian – and translated it into stunning refurbished furniture. Mimicking the act of placing a portage of one plant in the stem of another to create a union, Gamper presented a range of old Cox furniture which he reinterpreted in a contemporary twist. The vintage pieces were dissected and then restored with laser cut flat steel inserts, creating a dialogue between the purity of the original design and its new elements.
Curated by Nina Yashar, the site-specific installation continued to demonstrate why Yashar, Nilufar Gallery founder, is a leading figure in the field of collectible design.
MISS DIOR BY PHILIPPE STARCK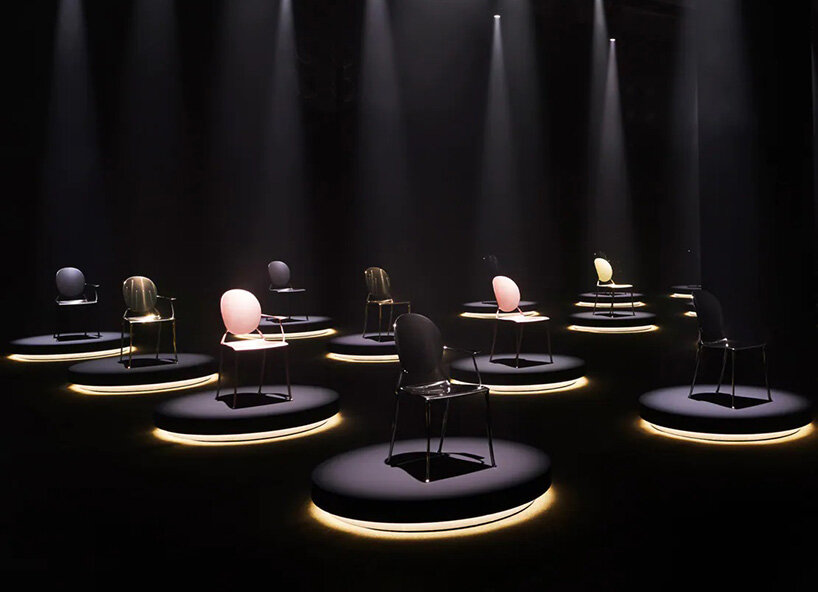 Philip Stark and Dior united in the pursuit of perfection with a refined edition of Christian Dior's Medallion Chair — this time renamed Miss Dior in homage to femininity. The event marked the first collaboration between the fashion house and the French designer and architect. Launched in an ethereal, cavernous theater beneath Milan's Palazzo Citterio, the space reflects the elegant minimalism of the chair.
Learn more about designboom here.
TWENTY BY TOM DIXON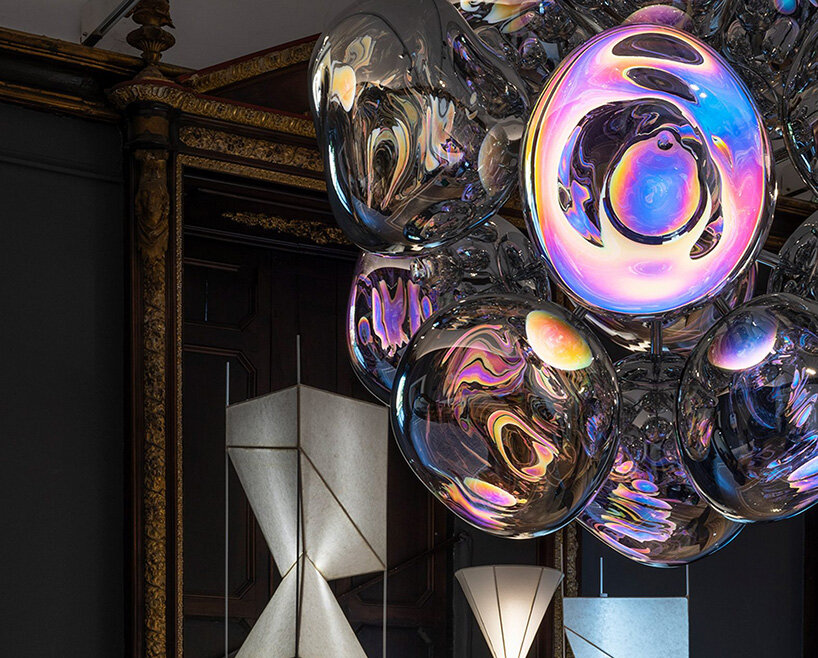 Recognized as a pioneering creative powerhouse in innovative products and high-concept interiors, the British designer Tom Dixon commemorated 20 years of the global design empire he established in 2002. To celebrate, the brand hosted the TWENTY exhibition, and presented its latest creations focused on innovation and materiality.
FORGET BY DIMORE STUDIO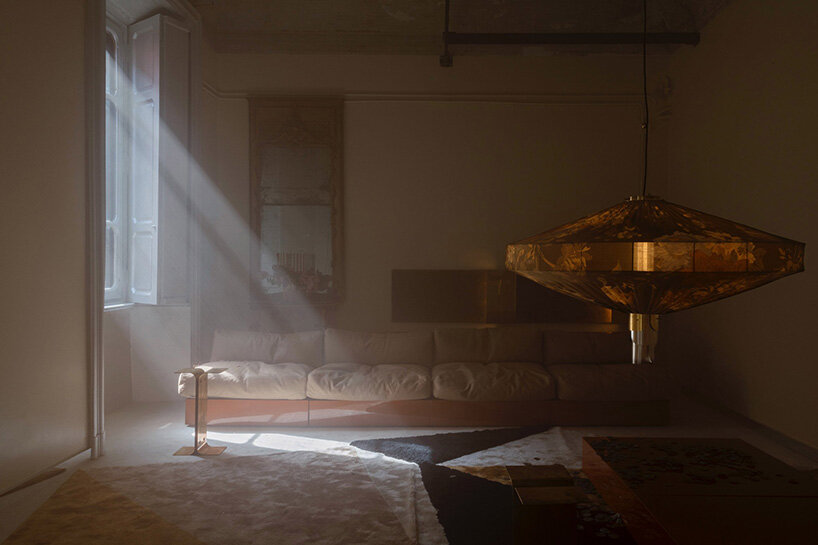 Locked in a "forgotten" Milanese apartment was Dimore studios Forgot To display. The hazy dimly lit space showcased the studio's new collection of furniture, textiles and lighting pieces, all with a strong signature from Emiliano Salci and Britt Moran. The journey inside the apartment felt like a dream, and felt like waking up slowly.
Learn more about designboom here.
SPOKE LINES BY BENI RUGS x COLIN KING AT ALCOVA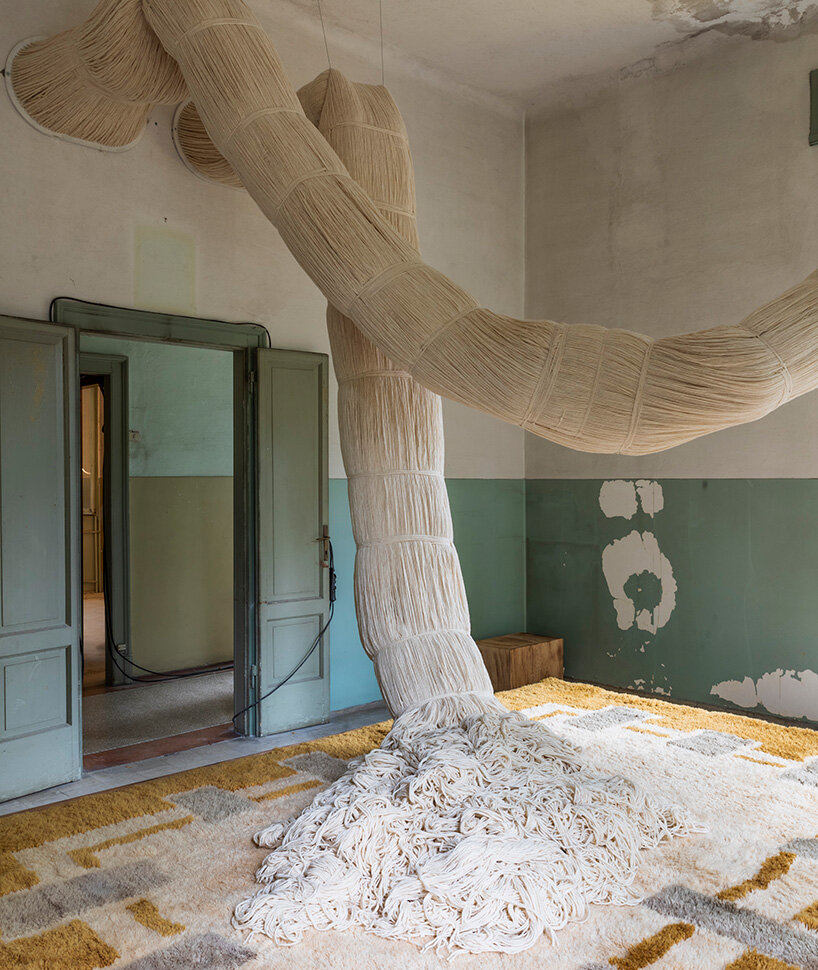 Beni Rugs surprised visitors to Alcova with a colossal site-specific woolen sculpture by Moroccan artist Amine El Gotaibi that gently rested on top of Colin King's carpet collection. The collaborative installation explored the heritage versus modernity of traditional Moroccan rug making and how it has evolved alongside contemporary design influences.
FLOATING FOREST BY STEFANO BOERI INTERIORS for TIMBERLAND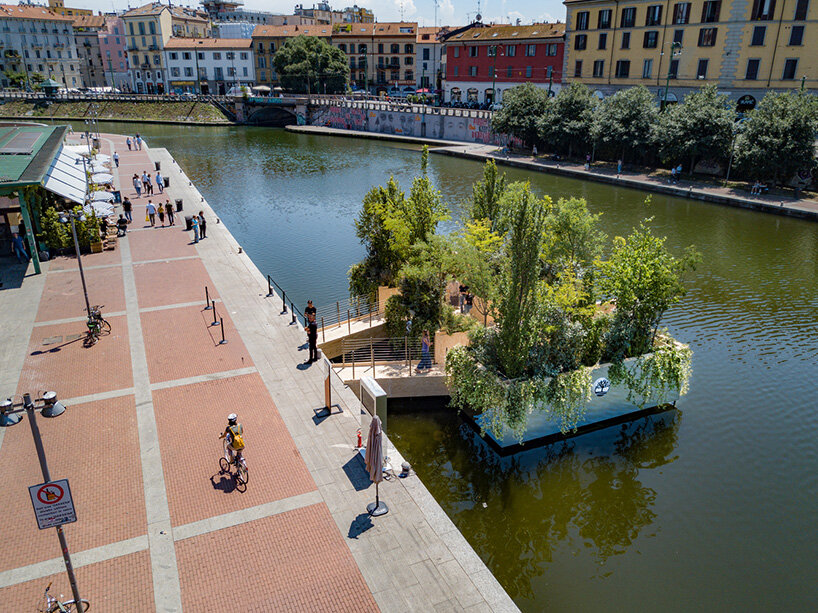 Milanese architect Stefano Boéri floating a multisensory forest created as an independent ecosystem on the waters of the city's Darsena. Created in collaboration with Timberland, the installation offered a place of intersection and reconciliation between the natural sphere and human beings. Complete with 610 plants and 30 species, the project aimed to multiply biodiversity and activate the environmental benefits linked to urban forestry, in connection with other green spaces in Milan.
ELEMENTI PER PAESAGGI BY NATHALIE DU PASQUIER FOR MUTINA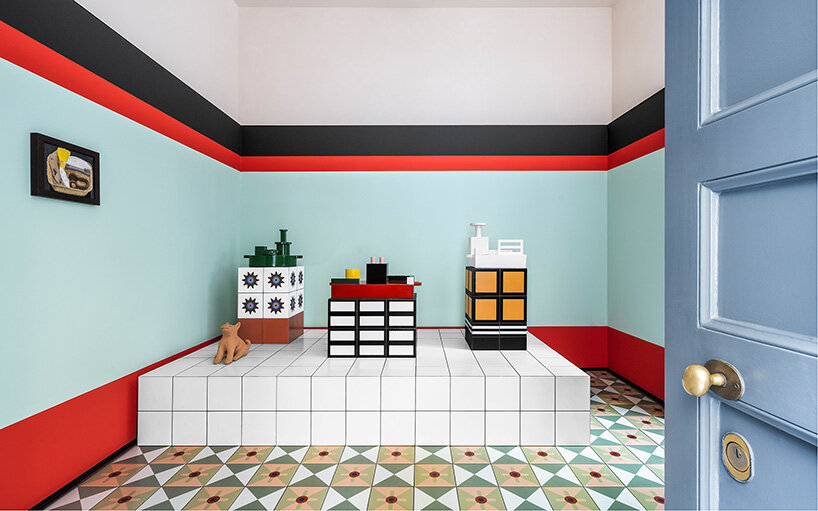 Memphis designer Nathalie Du Pasquier created an installation at Casa mischievous Milano to officially present the Paesaggi collection. The French architect and designer used the Mattonelle Margherita to create a lively and dynamic scenography reflecting his spirit and his creative approach.